Morphological filters. Dilation
Morphological filters are based on geometric transformation of the shape of one of the objects by means of another. In SPM, these objects are most often the created image and the tip shape model.
These filters are used to remove widening on surface and object images that appears due to the final shape of the probe, or to remove the effect of ghosting when scanning using whisker-type cantilevers. They are also used for modeling of scanning artifacts.
Dilation
Dilation is a morphological operation on two sets of points (A and B), the result of which is calculated as follows:

.
This operation on any two images of the needle and the surface can be done using command Dilation from menu Mathematics or by pressing the button on the tool bar.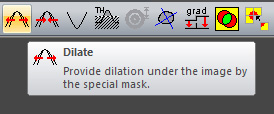 .
Meanwhile, the window of the processed images should be active, and the image of the needle should be selected in the dialog box. The result of the dilation with a double whisker probe is shown below.