Open File
FemtoScan Online program can work with microscopy data obtained on different microscopes, with grphic data in standart formats and with textdata. You can Open or Import file by pressing the button
In the dialog box, specify a path to the file in a standard way and select one or several files to open. The last catalogue, where the les where opened or saved is remembered after user exit the program, and will be automatically restored during a new launch of the program. The parameters at the bottom of the Open dialog box play the important role: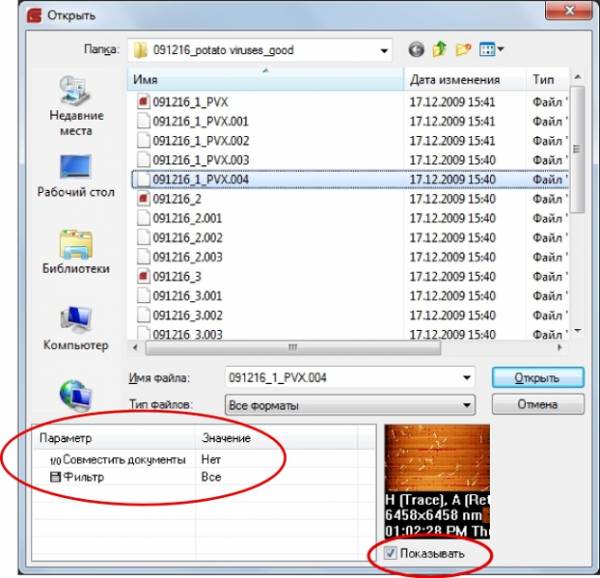 So, it is possible to choose several files at once in the appeared window using a combination of keyboard buttons Shift, Ctrl and left button of the Mouse. Selected files can be opened each in a separate window, or all together in one tabbed window. For this you need to put a value No or Yes for Merge documents parameter, respectively. To change the value set for this option, click on the field with its current value.
It is useful to merge files when working with force curves, for example.
If different types of data are mixed in the folder, it is usefull to filter the files. The Filter parameter is used to separate surfaces images, force curves and force maps from each other.
If there is a mark near Preview parameter in the dialog window, when at the bottom right angle of the dialog box the small sketch of the selected file will be displayed. It is reasonable to disable this feature when you are working with very large files (eg, force mapping).
To preview a large number of files it is convenient to use the Quick view.